2015 - all new, bye bye ConfigMgr
After getting rid of my Surface earlier this year  there's another big change for me, I'm saying good-bye to the Enterprise Client Management Group and with immediate effect am now a "System Center Cloud and Datacenter Management" (SCCDM) MVP.
My MVP Profile has already been updated accordingly.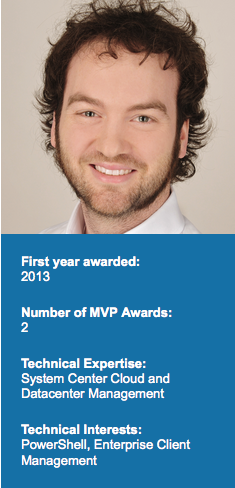 Cloud and Datacenter Management MVP
This has already been on my mind for some time. I'm still going to do and blog about ConfigMgr, but my focus will clearly stay on Cloud and Datacenter AUTOMATION, because that is what I do, in my free time, when speaking at events and of course at work. :-)
Even more exciting times ahead!