Cloud OS MVP Roadshow 2014 - Sydney
[Update] New date!
There has been a new date for the Cloud OS MVP Roadshow announced. The event will now be on 18/09/2014 in Sydney. Register FOR FREE on
SYDNEY Event Details & Registration: http://bit.ly/1odJ2GX **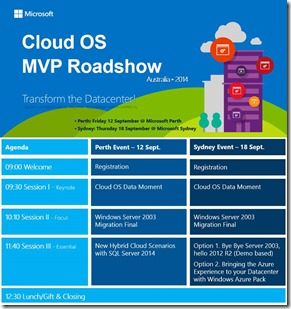 [/UPDATE]
If you haven't heard about it already, the Cloud OS MVP Roadshow, a worldwide event hosted by Microsoft, will come to Sydney in August 2014.
I will be speaking there alongside other MVPs about how to get you away from that old, stinking, legacy Windows Server 2003, to the new, shiny, with a smell of roses Windows Server 2012 R2.
Here is another good write-up about previous Cloud OS Roadshow events: http://mvp.microsoft.com/en-us/story/Cloud%20OS%20MVP%20Roadshow-20140324162819
Looking forward to seeing you in Sydney!